The number #1 problem I see businesses make when they try to get more leads is to…
…make it all about them.
It's not about you, it's all about the customer!
Think about it…
The only reason you are reading this article now, s because you hope I can reveal to you a way to get more leads. It's not because I may have won awards. It's certainly not due to my good looks. It's because there is something in it for you.
In reality, we are all selfish.
This is why "me" focused marketing is flawed.
Nobody cares if you were founded by grandpa Jones in 1956. At least they don't at the start. It's easy to spot this kind of 'marketing'. Given any piece of marketing such as the home page of the company website, just ask this one simple question
"Who is the star?"
Literally the first business website I came to in researching this post is a classic example:
Everything from the tag line "A Smarter Agency" to the emphasis on winning awards is all focused on them.
They are the star.
It's like standing a bar and shouting about how great you are – not exactly attractive.
There is a place for showing off your awards but the focus should always be on the customer.
Compare that site with this: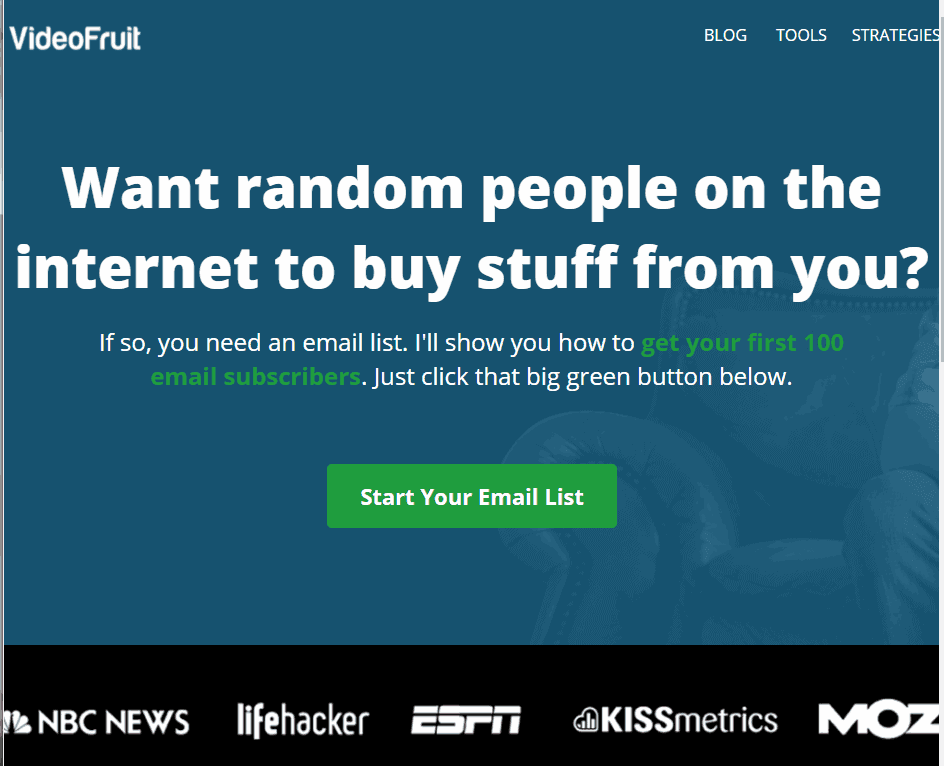 The emphasis here is entirely on the benefit to the visitor. The visitor is the star. And by the way this site generates thousands of leads a year for Bryan Harris.
Above all, focus on the needs and wants of the customer and generating leads will become a whole lot easier. In fact the rest of the techniques I'll reveal here assume this is your top priority.
1. The Iceberg Principle
Sticking with the VideoFruit example above we can see that Bryan is getting leads right at the top of home page.
We know that fewer visitors will see the bottom of your website pages then will see the top. So offering something of value before they need to scroll or "above the fold" gives you the greatest chance of earning a lead.
This assumes you offer them something they want and which has a perceived value. It all comes back to knowing your customers and seeing things from their perspective. Most marketers refer to these things as "lead magnets".
But what kind of lead magnets can you offer? Here are a few ideas:
2. A Cheat Sheet
A great lead magnet is often quick to consume and very valuable. Summarizing a complex process into a quick reference cheat sheet is a great example. Keep it short, concise and above all useful.
3. An Email Course
Sometimes you just can't break something down enough to be both useful and quickly consumable. At this point, it's worth considering a small 5 to 7 part email course. You can drip feed valuable information and stay front of mind for longer. In fact, drip campaigns are a sneaky killer marketing weapon that too often people overlook. 
The big problem with this option for most business owners is the time it takes to write. If you want a short cut then take a look at this, our done-for-you Email Drip Campaign service.
4. A PDF Version of the Article
Some audiences prefer to print out your articles. Maybe they need to use them in a meeting or they simply prefer paper. Whatever the reason, often just creating a PDF version of your article is enough value for people to happily hand over their email address to you. Another great approach is to summarise the content as an infographic. You can use services like Pictochart to help you produce professional looking infographics.
Alternatively, you can pickup a service like this and have them done for you each month.
5. A Collation of Useful Resources
It's not always easy to find all the resources you need to complete a task. You may have just read the perfect "How to" article but you have none of the tools or reference materials needed to accomplish the task. Pulling these together into a downloadable resource pack is highly valuable and makes a great lead magnet.
DOWNLOAD The 50 Lead Magnet Ideas Resource Sheet
6. Retargeting
When you start to look at the stats for an average unoptimised business website, you notice a frightening trend. Most visitors, whether or not they are an ideal customer, will leave and never come back to your website. It's as if they just bounced off.
There is a myriad of reasons why this might happen. They get distracted before they have a chance to investigate. Or they don't need your solution just yet but when they do they can't remember where they saw you. Whatever the reason, every bounce represents a lost opportunity.
Enter retargeting.
We have all experienced it. You've just been looking at buying a new gas barbeque on Amazon. Then you head over to Facebook and notice all the ads are about BBQ's. This is called retargeting. And it realy realy works.
Imagine being able to show your ads to people who have already indicated they are interested in what you have to offer! This is retargeting.
The power and flexibility of retargeting is amazing. One example for lead generation is this:
You could show an ad for a lead magnet related to a specific blog post they have read. The person has already put their hand up to say they are interested in visiting the blog post. You can now retarget them with something you are fairly sure will be of value to them.
This reduces your ad costs and is far more likely to earn you more and better quality leads.
By the way, if you really want to get more leads, check this out our Retargeting Management service.
7. Browser Notifications
A new feature of many web browsers is the something called a browser notification. In simple terms, visitors to your website can opt to get notifications from your site. They don't need to enter an email address. Why would anyone want to do this? It all comes back to knowing your customer and being helpful, useful and interesting.
Once you have them you can send out out push notifications and encourage them back to your site. Assuming they like your content or services this gives you another chance to get them to convert to becoming a lead in your database.
Here is how pushcrew explains the service.
https://www.youtube.com/watch?v=8ksI7mLKzig
8. Word of Mouth on Steroids
The final method is rather special. Done right and it can explode your ability to generate leads. Foundr magazine just used this technique to drum up interest in a rather niche course they were about to launch.
Result – they generated 13,603 new targeted e-mail sign ups in 10 days!
Here's how they did it.
They used a viral giveaway.
No, we're not talking about those cheesy "I'll give you an iPad" kind of giveaways. Those cheapen a brand and don't generate targeted leads.
They were launching an e-commerce course. So they gave away an amazing package – if you are the kind of person interested in taking this course.
You can read about the launch here.
All you needed to do to win was refer other people to the competition. The only people interested in entering are also highly likely to be interested in the course. The end result was that for everyone who entered they were able to get a proportion of them to refer other people.
It's exactly the same principle DropBox used to spread like wildfire when they first launched.